Knowledge With Nick Issue 9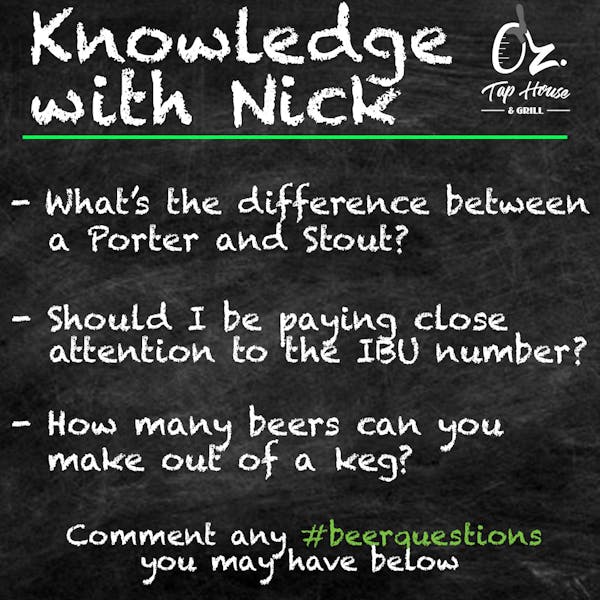 Are you a fan of obtaining new insight into all subject matter surrounding beer, cocktails, and wine? Are you just trying to find out the best way to utilize our self-pour taps to its highest efficiency? Or are you someone who just enjoys a good read? Well if that is you, welcome to our weekly issue of "Knowledge with Nick". Every Wednesday we will be posting answers to customers burning questions. Below are this weeks questions asked to our Beverage Director Nick Baizer.
What is the difference between a Rose and a Cabernet Wine?
Rosé is not a specific type of grape — it's simply a genre of wine, like reds and whites. While it's produced similarly to other red wines, the time it ferments with grape skins is cut shorter. This reduced skin contact is what gives rosé its signature pink color.
Cabernet Sauvignon is a red grape varietal known for its thick, durable skin, and the vine's resistance to the elements. After the birth of the grape, the Cabernet Sauvignon varietal began to be adopted in parts of France by winemakers searching for more durable plants that were relatively easy to grow, and the grape found its champion in the region of Bordeaux.
What are your Crowlers and Growlers?
Crowlers and Growlers are what we utilize so you can take your favorite beer, wine and/or cocktail to-go! Our Crowler is a sealable air tight 32oz. can and our growler is a 32oz. glass bottle. The benefit of getting your favorite drink to-go is that it's at a fraction of the cost! ALWAYS 25% off! To see what we have on tap or what may be coming to our tap wall soon, make sure to follow us on UNTAPPD (can be found on apple store or android store).
What is an Oktoberfest beer?
The style of Oktoberfest includes both the beers specifically brewed for serving, or in the style of those served, at the world's largest beer festival, Oktoberfest in Munich, which takes place each year in mid-September.
These days, the beer served at the Munich festival is golden, slightly more so than Helles (another pale, German lager style), but brewed to a higher gravity, resulting in a beer with a higher alcohol content. They are no longer the amber brews that American brewers make today which use lots of Munich and Caramel malts for color and a sweet, full flavor.
The Oktoberfest questions once and for all: The Oktoberfest beers made in America intended to mimic the style served at Oktoberfest in Munich are often nothing like the actual Oktoberfest beers served at the actual German Oktoberfest. They are often based on an older style.
You can learn more by coming in and speaking to Nick at OZ. Tap House.