Knowledge With Nick Issue 6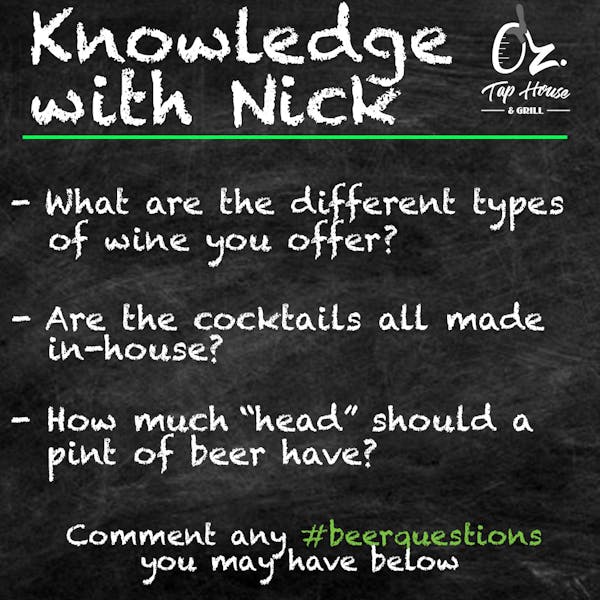 Are you a fan of obtaining new insight into all subject matter surrounding beer, cocktails, and wine? Are you just trying to find out the best way to utilize our self-pour taps to its highest efficiency? Or are you someone who just enjoys a good read? Well if that is you, welcome to our weekly issue of "Knowledge with Nick". Every Wednesday we will be posting answers to customers burning questions. Below are this weeks questions asked to our Beverage Director Nick Baizer.
What are the different types of wine you offer at OZ. Tap House?
At OZ. Tap House we currently offer 7 different types of wine. On our taps we have:
- Rose/ Zinfadel/ Sangria/ Brut/ Chardonay/ Riesling/ Cabernet
Depending on your taste buds, or your preferences we make sure to have a steady amount of different types of wines to match. A lot of customers are surprised that we have more than beer on our tap wall. So no matter your choice, we will have a wine for you to enjoy, whether it's Wine'o'clock or any other time of the day.
Are the Cocktails made in-house?
Yes, we offer 4 different craft cocktails that are all made in house. We currently have:
- OZ. House Margarita: Exotico Tequilla, fresh squeezed lemons and limes, and Mathilde Orange Liqueur, and a dash of salt.
- Tex-tucky Mule: Treaty Oak Texas Day Drinker Bourbon, fresh mint, ginger, lime.
A Kentucky Mule with Texas Flavor!
- Berry Stubborn Vodka: Tito's Vodka, fresh squeezed lime, and a house made berry reduction.
- Lavender Citrus Squeeze: Waterloo Gin, fresh lemon, lime, and premium gourmet lavendar
How much "head" should a pint of beer have?
Beer head (also head or collar), is the frothy foam on top of beer which is produced by bubbles of gas, predominantly carbon dioxide, rising to the surface. The elements that produce the head are wort protein, yeast and hop residue.
Typically a good pint of beer will have 2 to 3 fingers of "head" or 1-2 inches.
You can learn more by coming in and speaking to Nick at OZ. Tap House.