Knowledge With Nick Issue 11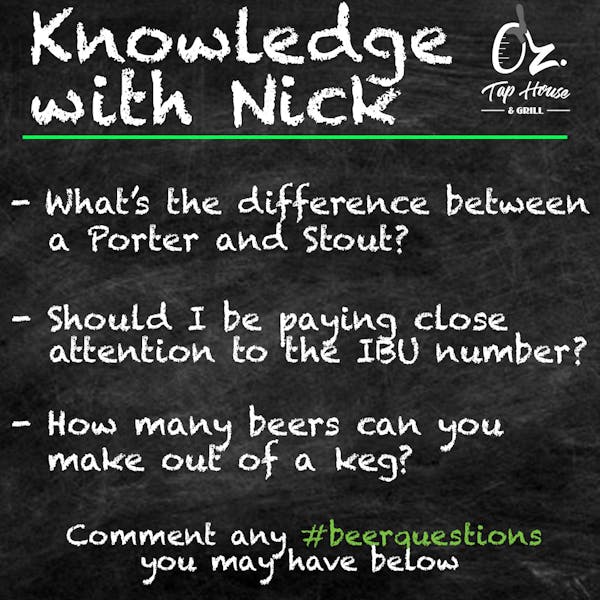 Are you a fan of obtaining new insight into all subject matter surrounding beer, cocktails, and wine? Are you just trying to find out the best way to utilize our self-pour taps to its highest efficiency? Or are you someone who just enjoys a good read? Well if that is you, welcome to our weekly issue of "Knowledge with Nick". Every Wednesday we will be posting answers to customers burning questions. Below are this weeks questions asked to our Beverage Director Nick Baizer.
What is the peat flavoring when talking about beer?
The peat flavoring is a smokey addition specifically used in scotches or bourbon. You will find that peat flavoring is used in Scotch Ales. If you are interested in trying it out for yourself we currently have a Scotch Ale on tap!
Which beer on tap has the highest ABV?
Our strongest beer on tap in regards to ABV is the WEE2HEAVY by Aqua Brewing. It currently holds the highest ABV of 12%. It is a Scotch Ale that has aftertnotes of Bourbon with every sip. You can learn more about WEE2HEAVY here.
You can come into OZ. Tap House and taste it for yourself one OZ. at a time.
What new cocktails do you have on tap?
We currently have six cocktail taps on our wall, but we recently added 4 new ones that include:
- 1 new bourbon drink our "Bourbon Berry Bliss"
-2 new vodka drinks: Our "Oz. House Cozmo" and our "Cucumber Cooler"
-1 new tequila drink: Our "Papi's Paloma"
You can learn more by coming in and speaking to Nick at OZ. Tap House.