Knowledge With Nick Issue 10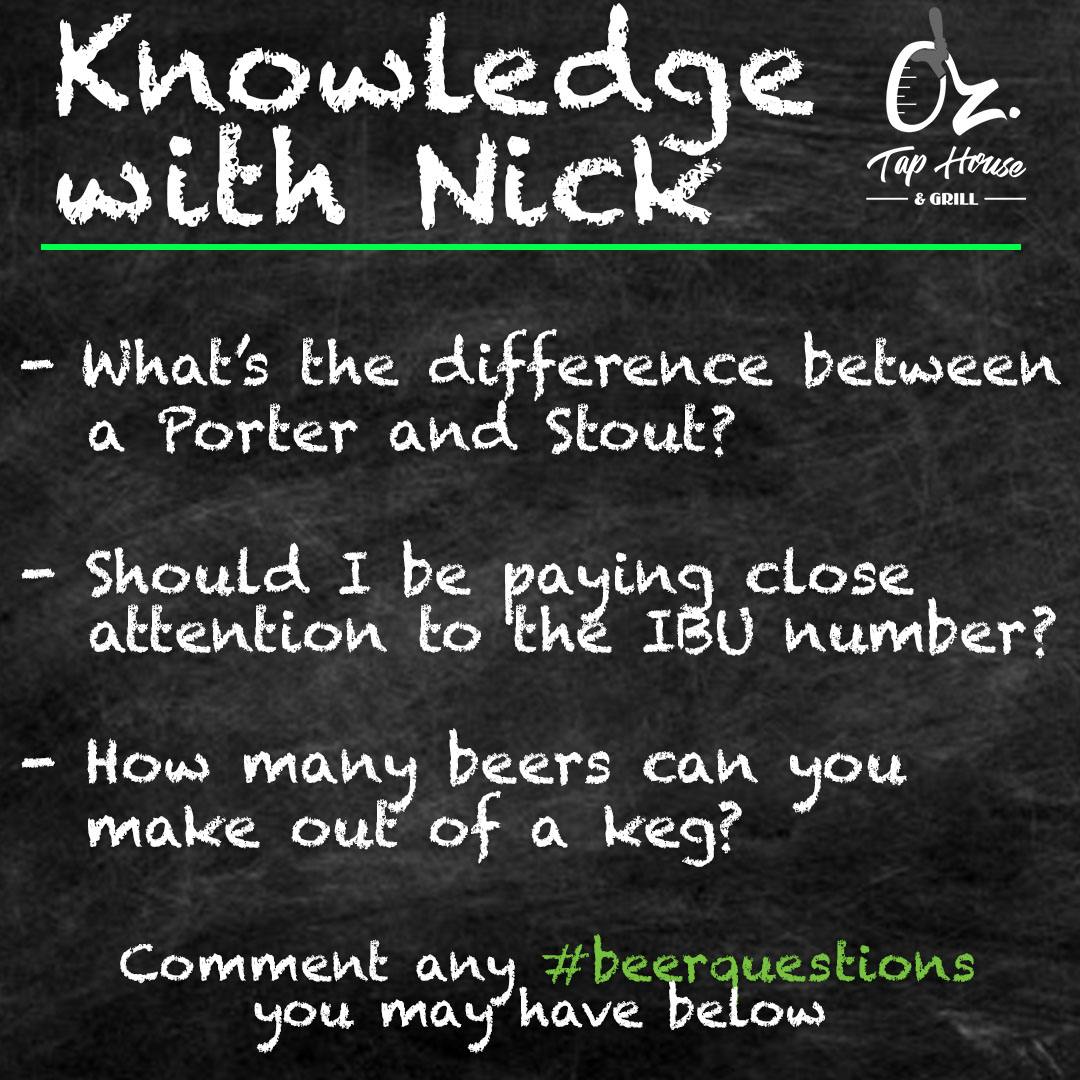 Are you a fan of obtaining new insight into all subject matter surrounding beer, cocktails, and wine? Are you just trying to find out the best way to utilize our self-pour taps to its highest efficiency? Or are you someone who just enjoys a good read? Well if that is you, welcome to our weekly issue of "Knowledge with Nick". Every Wednesday we will be posting answers to customers burning questions. Below are this weeks questions asked to our Beverage Director Nick Baizer.
What is a Scotch Ale?
The Scotch ale is overwhelmingly malty, with a rich and dominant sweet malt flavor and aroma. A caramel character is often part of the profile. Some examples feature a light smoked peat flavor. This style could be considered the Scottish version of an English-style barley wine. Overly smoked versions would be considered specialty examples.
Currently in-house we carry a Scotch Ale by Aqua Brew called "We Too Heavy". Come in today and try for yourself what "hopheads" are loving at OZ. Tap House.
Which country created the Pilsner style beer?
One of the most known beer styles in the world was brought to life in the Czech Republic! The story goes that citizens were infuriated with the quality of beer being produced that it led to a outcry in front of city hall. This would lead to the hiring of 2 Bavarian brewers to create a new beer, which today we now know as a Pilsner.
You can come into OZ. Tap House and find a large variety of beer styles on tap, but we almost always have a Pilsner on our wall.
You can read the full story here.
Where does the original Oktoberfest take place in?
Oktoberfest takes place in Munich, Germany.
Oktoberfest, annual festival in Munich, Germany, is held over a two-week period and ending on the first Sunday in October. The festival originated on October 12, 1810, in celebration of the marriage of the crown prince of Bavaria, who later became King Louis I, to Princess Therese von Sachsen-Hildburghausen.
You can learn more by coming in and speaking to Nick at OZ. Tap House.