Beer of the Week: Medina Sod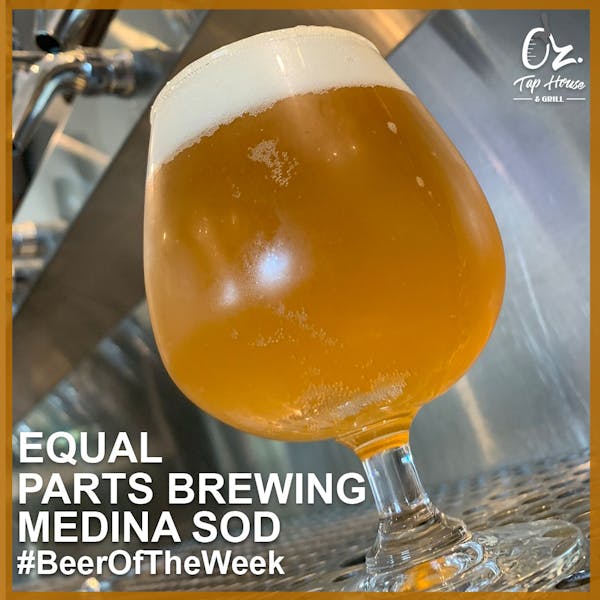 At OZ. Tap House the end of the week is synonymous with a new #BeerOfTheWeek! Remember that feeling as a kid not being able to sleep on Christmas Eve because you knew that the next day meant presents from Santa Clause? Well that is the way we feel about finding out the next member of our Beer of the Week. Kids can wait for that one day a year, here at OZ. Tap House we gift you a new #BeerOfTheWeek every Thursday!
Come on in to receive 15% off until September 2nd!
Medina Sod Drink Profile:
Brewing Company: Equal Parts Brewing
Formerly known as Sigma Brewing Company, a name change to Equal Parts Brewing has been a momentous change, but the same great taste still remains. Located in Houston, Tx Equal Parts Brewing is another example of Texas sized flavor meeting Texas brewed beer!
Style of Beer: New England Style Pale Ale
New England IPAs are beers that are purposely hazy or cloudy, which can give these brews a smooth, creamy mouthfeel – a departure from the light/dry mouthfeel you often get with West Coast IPAs – with little to no hop bitterness at the end utilizing hops that impart a tropical, juicy sweetness rather than the classic bitter, dank or citrus-y flavors West Coast IPA lovers have come to expect.
Year Created:
2019
Medina Sod:
This Texas Hazy/ New England style Pale Ale delivers on all of the intangibles. Medina Sod is brewed with Citra and Mandarina Bavaria Hops that help create its very juicy, citrousy, hazy pale ale. Not only is it delicious to drink, it is also explosive with a tropical aroma!