Beer of the Week: Double Splat IPA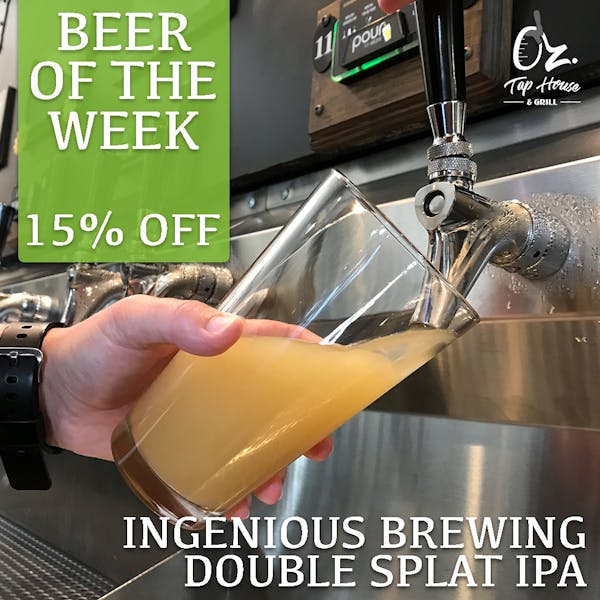 At OZ. Tap House the end of the week is synonymous with a new #BeerOfTheWeek! Remember that feeling as a kid not being able to sleep on Christmas Eve because you knew that the next day meant presents from Santa Clause? Well that is the way we feel about finding out the next member of our Beer of the Week. Kids can wait for that one day a year, here at OZ. Tap House we gift you a new #BeerOfTheWeek every Thursday!
Come on in to receive 15% off until August 19th!
Double Splat IPA Drink Profile
Brewing Company: Ingenious Brewing Company
Ingenious Brewing is the brainchild of owners Mike and Justin. Mike is a multi-award-winning home brewer turned professional brewer who has been honing his brewing technique for over 15 years in his home state of Pennsylvania. Justin, originally from Houston, began brewing with Mike over 10 years ago while on station in Pennsylvania for work. Both holding degrees in science, they enjoyed tinkering with recipes by applying knowledge of the chemical properties found in the ingredients of beer. Over time this process led to exceptional and inventive beer. Ingenious perfectly symbolizes our philosophy that brewing beer is equal parts science and creativity.
Style of Beer: Double New England IPA
A New England IPA is a style of American IPA that features an intense, tropical fruit centric, hop aroma and flavour. It's heavily dry hopped to the point of being hazy and has a fuller body, smoother flavour, and less perceived bitterness than typical IPAs.
Year Created: 2020
What is Double Splat IPA:
Double Splat IPA is a New England double IPA brewed with Citra, Masaic, El Dorado, and Ekuanot hops. A super hazy yellow-orange with a mild head and notes of grapefruit and juicy pineapple. A limited time release so enjoy it while you can!