Beer of the Week: Austin Beerworks Megaflora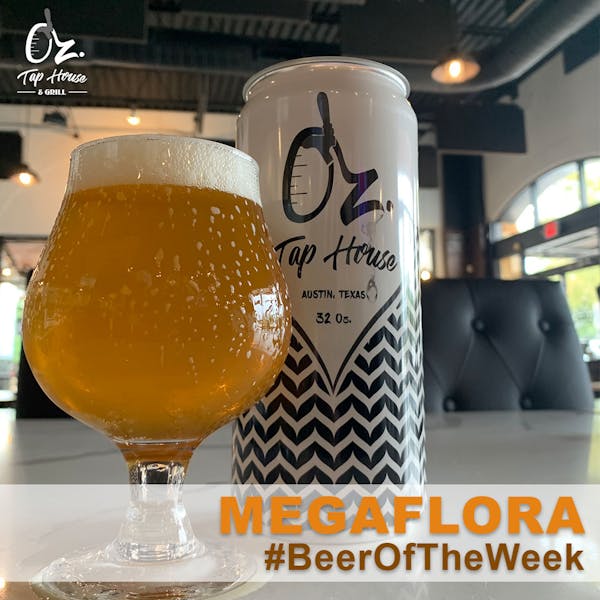 At OZ. Tap House the end of the week is synonymous with a new #BeerOfTheWeek! Remember that feeling as a kid not being able to sleep on Christmas Eve because you knew that the next day meant presents from Santa Clause? Well that is the way we feel about finding out the next member of our Beer of the Week. Kids can wait for that one day a year, here at OZ. Tap House we gift you a new #BeerOfTheWeek every Thursday!
Come on in to receive 15% off until October 21st!
Austin Beerworks Megaflora Drink Profile:
Brewing Company: Austin Beerworks
Austin Beerworks in simple terms represents an independent Austin. They build a culture of beer, Austin, and good fashioned fun into every can they produce. They back up their mission which is "e're never going to release a beer we're not excited about or proud of. With this as our approach we feel comfortable brewing any style from PearlSnap to a Mixed Culture Saison! We're not afraid of tackling styles that have otherwise been shunned by craft brewers".
Style of Beer: Double New England Style IPA
Double IPA's, also called Imperial IPA's, take a regular IPA and amplify it with a bigger malt and hop profile. The alcohol content usually greater, too. Breweries have taken it to another level developing Triple and Quad IPA's that are much less commercialized and a higher alcohol content.
Are you trying to impress any of your "hopphead" friends, bring them by OZ. Tap House and show them what you know about Megaflora!
Year Created:
2015
Megaflora:
Megaflora is a Double New England Style IPA enriched with amazing flavor. Straw or deep gold in color, this style has a varying degree of cloudiness. Descriptors such as "juicy" are often used to describe the taste and hop-derived aroma attributes present in this beer. Described by our customers as "one of my favorite IPAs on tap". Megaflora packs a "mega" flavor to match its floral aftertones.