Beer of the Week: Burst IPA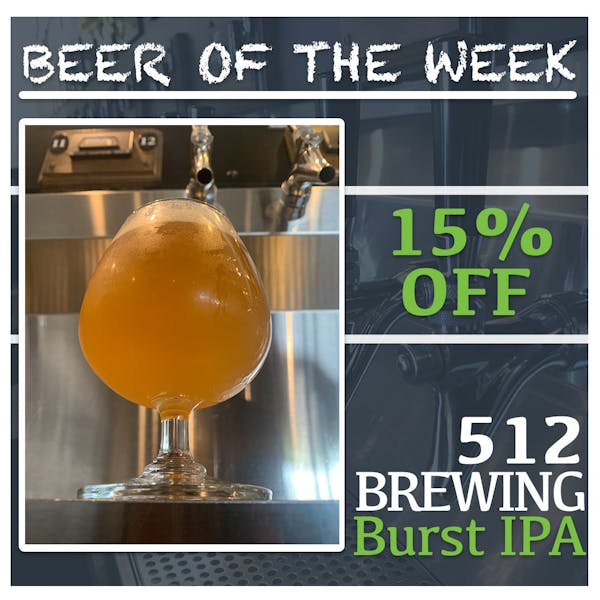 At OZ. Tap House the end of the week is synonymous with a new #BeerOfTheWeek! Remember that feeling as a kid not being able to sleep on Christmas Eve because you knew that the next day meant presents from Santa Clause? Well that is the way we feel about finding out the next member of our Beer of the Week. Kids can wait for that one day a year, here at OZ. Tap House we gift you a new #BeerOfTheWeek every Thursday!
Come on in to receive 15% off until September 2nd!
Burst IPA Drink Profile:
Brewing Company: 512 Brewing
Founded by Kevin and Sara Brand, located in the capital city of Texas, 512 Brewing is an example of family meeting big beer flavors! 512 Brewing prides itself on making choices that aren't always the most profitable. They conserve water and buy the highest quality ingredients they are able to find. Packaging is in reusable kegs to reduce disposable waste. They buy ORGANIC base malt to protect water sources and to protect the farm workers. To top it all off they also reclaim CO2 and use it to carbonate.
Style of Beer: American IPA
Characterized by floral, fruity, citrus-like, piney or resinous American-variety hop character, the IPA beer style is all about hop flavor, aroma and bitterness. This has been the most-entered category at the Great American Beer Festival for more than a decade, and is the top-selling craft beer style in supermarkets and liquor stores across the U.S.
Year Created:
2020
Burst IPA:
This American IPA by 512 Brewing uses a new technique to maximize hop character in what is deemed to be your new favorite beer. All the hop bitterness, aroma and flavor for this one is achieved by holding back the hop additions until late in the boil...The Result? A BURST of hops unlike anything done before. Hop varieties incliude some of our citrusy favorites like Simcoe, Amarillo and Citra and a new hop to us, Eukanot, which adds some tropical fruitiness too!