Beer of the Week: Blue Owl Brewing Plum de Plume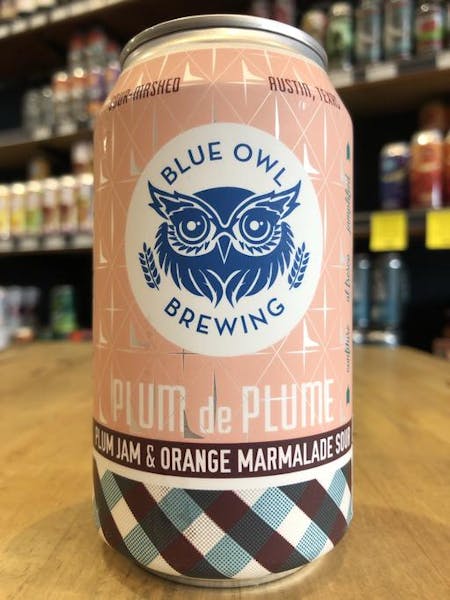 At OZ. Tap House the end of the week is synonymous with a new #BeerOfTheWeek! Remember that feeling as a kid not being able to sleep on Christmas Eve because you knew that the next day meant presents from Santa Clause? Well that is the way we feel about finding out the next member of our Beer of the Week. Kids can wait for that one day a year, here at OZ. Tap House we gift you a new #BeerOfTheWeek every Thursday!
Come on in to receive 15% off until September 30th!
Blue Owl Brewing Plum de Plume Drink Profile:
Brewing Company: Blue Owl Brewing
Blue Owl Brewing is a sour brewery in Austin, Texas. Started in 2015 Blue Owl is on a mission to make sour beers approachable yet still unique. Their souring style accentuates the beer rather than dominating your taste buds. Blue Owl aims to produce clean, well-balanced sour beers that retain the characteristics of their style.
Blue Owl is owned by Jeff Young (brewing) and Suzy Shaffer (business) and staffed by a small gang dedicated to making and serving their absolute favorite beers.
Be Unique. Drink Unique.
Style of Beer: Sour

A typical Bavarian beer is the top-fermented wheat beer. Since it is brewed with wheat malt, the name Weizen, abbreviated for Weizenbier (wheat beer), is equally common in Bavaria and the rest of Germany. In terms of taste, the wheat beer can be described as fruity and extremely refreshing.
Year Created:
2020
Plum de Plume:
Like settling down in the cool shade for a picnic in the park, Plum de Plume embodies lazy late summer days lounging outside, sharing food and drink with friends. Refreshing and rich with jammy flavors. Plum de Plume combines sweet plums and tart citrus while hops and sage bring a balanced earthiness. All these wonderful elements are tied together with a touch of vanilla.